2019 KIBULI PRIMARY PRIZE AWARD CEREMONY
On the 1st and 4th of October 2019, our Primary Kibuli Campus recognized their most outstanding pupils in the lower section  (Nursery to Primary two) and the upper section (Primary three to Primary seven) respectively.
The prestigious events that also highlighted the pupils' dance skills through the creative dances presented saw outstanding pupils in the categories of Academician and Mathematician of the year, Swimmer of the year, ICT Pupil of the year, pupils with the most improved academic performance, confident speaking to mention but a few walking away with certificates and some, winning themselves Aristoc book coupons worth UGX. 100,000 each.
The Lower section's event was graced with the presence of, Mr. Benon Takirambudde the Head of School- Greenhill Academy Secondary as the Guest of Honor. Mr. Benon who presented certificates and shields to the overall academician of year in the section, Lukwago Simon Peter also encouraged the learners to believe in themselves.
The Upper Section's event then followed with Mr. Francis Twesigawe, the Head of School Greenhill Academy Secondary as the Guest of Honor. He went on to award certificates and shields to the Pupil of the year, Daniel Austeen Nyagaya (P.7 Green) and the Ubuntu Award winner Hanasaye Hannah (P.6 Yellow). In his very enlightening speech, Mr. Francis urged the audience to always aim for excellence and to work hard in all that they do because hard work always pays.
We would like to congratulate all the awardees of this years' prize awards as well as, the teachers and parents that have done a great job as far as grooming these pupils is concerned. To those that were not awarded, we encourage you to keep striving for the best; one day you too will be an awardee.
Below is the full list of all the awardees of Greenhill Academy Primary, Kibuli Prize Award 2019.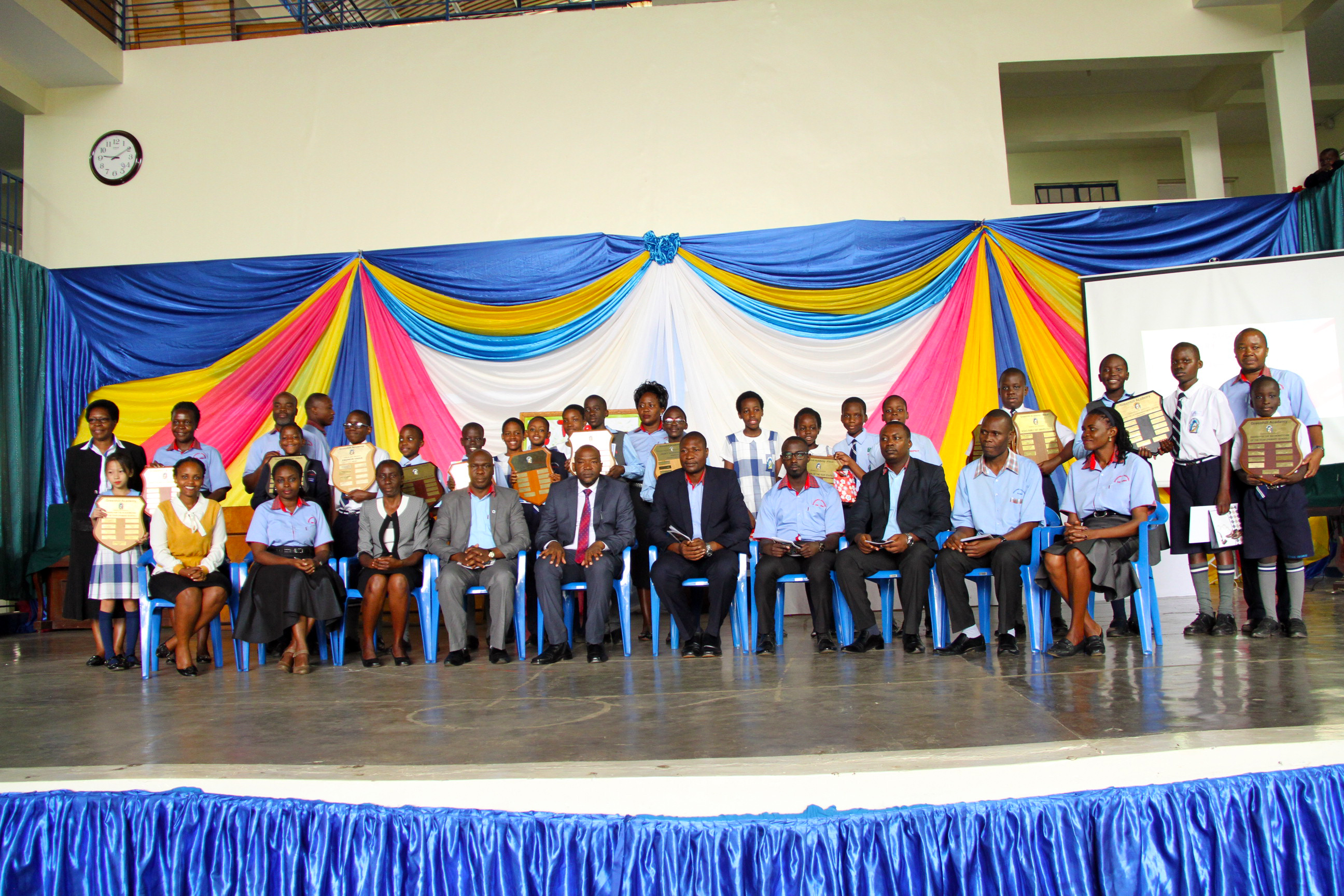 PRIZE AWARD LIST FOR NURSERY –PRIMARY TWO
CATEGORY

NAME OF STUDENT

Class/Stream

BEST SWIMMERS  OF THE YEAR

 

 

 

 

MURENGEZI MOSES

NURSERY PURPLE

OPOLOT   JOELLA

NURSERY BLUE

NTABAAZI SHUGA

PRE RED

KALENDE SEAN

PRE BLUE

NANSAMBA AISHA

P.1 RED

TENDAI MOHAMMED

P.1 PURPLE

WASSWA DANIEL

P.2 RED

YETTA MAGOOLA

P.2 GREEN

SPORTS WOMEN OF THE YEAR

 

 

 

AMALI KERSTIN

NURSERY YELLOW

NAMUNGO RENEE

PRE ORANGE

EKIRI WHALICE

P 1GREEN

NAKANJAKO JANICE HANNAH

P.2 PURPLE

SPORTS MEN OF  THE YEAR

SSEMAKULA HAMDAN

NURSERY ORANGE

ALPHA KABOGOZA

PRE YELLOW

MATHIAS KIMBUGWE

P.1GREEN

ADAM KATUMBA

P.2 BLUE

THE BEST DANCER

AMPIRE FRANCIS SSAJJABI

NURSERY RED

ABIGAIL KIGOZI NAKANYIKE

PRE RED

TRAVIS DOMINIC  BIATO

P.1 GREEN

JAYSON MUSOKE

P.2PURPLE

FOR ACTING AND PERFORMING IN PLAYS

KISITU CHRISTIAN

NURSERY SILVER

AGAPE DAWN

PRE GREEN

SANYU MUWEMA

P.1 BLUE

SSEWANYANA CHRISTIAN

P.2 BLUE

 THE FINE ARTIST OF THE YEAR

AMBER RUTH MULINDWA

NURSERY PURPLE

SPERANZA KASASA

PRE YELLOW

MUGERWA VICTOR

P.1BLUE

GANNANTAAWA REYHAN

P 2 GREEN

TAKING GOOD CARE OF PERSONAL PROPERTY

ITUNGO GODIVA MANUELLA

NURSERY GREEN

AHUMUZA ABIGAIL

NURSERY YELLOW

SANYU JOSELYN ROBINAH

NURSERY SILVER

NTWATWA EMMANUEL

NURSERY PURPLE

PHILLANDA NANYONGA 

NURSERY RED

JOHNELLA RUTH KATENDE

NURSERY BLUE

NAKUBULWA TAQIYAH

NURSERY ORANGE

A ROLE MODEL TO OTHERS

NSIIMENTA SHALOM MISHA

NURSERY SILVER

NAILAH NAMULINDWA

PRE ORANGE

ISREAL NEWMAN BAKAMIRE

P.1 BLUE

KIRABO ETHEL

P.2 GREEN

FOR BEING RESPONSIBLE AND HELPFUL

NIMARO TIFFANY

NURSERY YELLOW

NATASHA ATUKUNDA

PRE PURPLE

ATWINE TYRA

P.1 YELLOW

BARUNGI PHILLIP

P.2 YELLOW

FOR SPEAKING WITH CONFIDENCE

 

 

 

 

 

 

 

 

KEBIRUNGI ESTHER

NURSERY YELLOW

KAMUKAMA JIREH

NURSERY BLUE

SSEBUNYA ELIJAH

NURSERY SILVER

KAGABA  HANNAH

NURSERY GREEN

ELAINE ELIZABETH IDONGI

NURSERY PURPLE

ANAAYA AGWISAGYE

NURSERY RED

NKWANZI TAHIIRA

NURSERY ORANGE

KIRABO JOWELLA

PRE ORANGE

KATENDE JOSIAH

PRE-YELLOW

SSETENZA PARIS

PRE-GREEN

LEILANI OKENYI

PRE RED

KARSTEN DYLAN KIWEEWA

PRE BLUE

ASIIMWE JEREMIAH

PRE-PURPLE

EWOMA BELLA EJIRI

P.1 GREEN

NANSEERA LEAH

P.1 RED

ARINDA ELAINE DORCUS

P.1 BLUE

MITALA SEAN

P.1 YELLOW

NAKASUJJA LATAVIA

P.1PURPLE

SERENE KIMPI

P.2 GREEN

KAREN GESSA

P.2 BLUE

PENNY ATUHAIRWE

P.2 YELLOW

MUGAGGA EILEEN

P.2 PURPLE

KAMENGO JOASH

P.2 RED

FOR MAKING WONDERFUL PROGRESS THIS YEAR

 

 

 

 

SSEKIRIME SILVANUS

NURSERY YELLOW

CELEST NAGGITA

NURSERY BLUE

ABIA TRUDY KISA

NURSERY PURPLE

NKINZI HANNAH CHRISTINE

NURSERY GREEN

NAITALA GOLDEN HARRISON

NURSERY SILVER

OKWERE EMMANUEL

NURSERY RED

KIVUMBI AIDEN KIWANUKA

NURSERY ORANGE

NAKYESERO TABITHA

PRE ORANGE

KENZA SERUFUSA

PRE YELLOW

CUI TIAN XING WILLIAM

PRE GREEN

MESFIN NARDOS

PRE RED

KATANA ADRIANA MELLISA

PRE  BLUE

KAKOOZA SHALOM

PRE PURPLE

LUBUGA SONYA

P.1 YELLOW

KWAGALA PEARL RUBY

P.1RED

LUYIGA CLARISSA HANNAH

P.1 GREEN

SANYU BUKENYA

P.1 BLUE

NTARE RICARDO

P.1 PURPLE

KATUNGI SCARLETT

P.2 GREEN

MAGEZI KEILI

P.2 BLUE

TWEHEYO JAYDEN

P.2YELLOW

NAMIRIMU THELMA

P.2 PURPLE

BEST ADJUSTED PUPIL IN CLASS

NOON MOHAMED

NURSERY PURPLE

ATWINE KENDRICK JOSEPH

NURSERY  SILVER

JORDAN MULINDWA

NURSERY BLUE

JAMIE KEMIGISA

NURSERY RED

KASULE ROSHAN

NURSERY  GREEN

NAKANDI ROEN`NA

NURSERY YELLOW

NAMUGGA TASNEEM

NURSERY ORANGE

FOR BEING THE BEST CLASS CAPTAIN OF THE YEAR

IAN TASHOBYA

PRE ORANGE

MICHELLE  MULERA

P.1 BLUE

NANTEZA RANIA

P.2 RED

 

 

FOR READING MANY LIBRARY BOOKS

ANAYA CHRISTINA MULUNGI

P.1 YELLOW

ABER BRIDGET

P 1 PURPLE

MUSAAZI DYLAN

P.1 BLUE

NABIRYE SHARLOM GOLD

P.1 RED

CHERONO ALLISON

P 1 GREEN

SPELLING BEE

ANWITHA HAREESH

PRE-ORANGE

KARUGABA SHUANA ELISE

P 1 GREEN

 BEING A VERY FLUENT READER

GAVA SHAKRN

NURSERY RED

ABE PISHON GASATURA

NURSERY PURPLE

KAVYA SHIYANI HARISH

NURSERY BLUE

NAKIJOBA TABITHA

NURSERY GREEN

MUGISHA MISCHELLA

NURSERY  YELLOW

BUKENYA JULIAN

NURSERY ORANGE

JUMA HABIB

NURSERY SILVER

MUGISHA JOSHUA RICH

PRE BLUE

KIMBERLY KIBUKAMUSOKE

PRE-PURPLE

KATRINA ATWIINE ATUKUNDA

PRE RED

MBABAZI NATALIE

PRE GREEN

COMFORT WAMBOKA

PRE YELLOW

OSIRU TIRZAH

PRE ORANGE

OSIRU JOSIAH

P.1 GREEN

NAHURIRA KARAGWA SHELDON

P.1 RED

NASSUNA MAHREEN

P.1 PURPLE

TENDO CLARA

P.1 YELLOW

MUGUMYA BRACHA

P.1 BLUE

SEKYAYA HARRIS

P.2 PURPLE

NALWEYISO MELITA

P.2 RED

WINTANA ALEM

P.2 YELLOW

SENYONGA RAUTHA

P.2 BLUE

BEING THE BEST ACADEMIC PERFORMER

 

 

 

BUYINZA DYLAN

PRE-YELLOW

 

ANWITHA HAREESH

PRE-ORANGE

KATUSHABE PRECIOUS

 

PRE-GREEN

 

SHAHEED KAYINDA

 

PRE-RED

 

ANTONIA NKAMWESIGA

 

PRE-BLUE

 

AMARO LAGUM

PRE-PURPLE

TENDO CLARA

P.1 YELLOW

ANAYA AMER

P.1 PURPLE

NAHURIRA KARAGWA SHELDON

P.1 RED

ELISE SHUANA KARUGABA

P.1 GREEN

MICHELLE MULERA

P.1 BLUE

AGENORWOT TRINA LUCKY

P.2 GREEN

LUKWAGO SIMONPETER

P.2 BLUE

NAKANJAKO  JANICE HANNAH

P.2  PURPLE

NAMUYANJA RANIA KITIIBWA

P.2 RED

AINEMBABAZI FAITH KAILEY

P.2 YELLOW

BUYINZA DYLAN

PRE-YELLOW

 

BEING THE MATHEMATICIAN OF THE YEAR

KARUGABA SHAUNA ELISE

P.1

LUKWAGO SIMON PETER

P.2

OVERALL ACADEMICIAN OF THE YEAR

LUKWAGO SIMON PETER

P.2
PRIZE AWARD LIST P.3 –P.7
CATEGORY

NAME OF STUDENT

Class/Stream

BEST SWIMMERS

PER CLASS

KARUHANGA ELISHA

P.3 Green

MWAGALE ABIGAIL

P.3 Red

MANDRE JOSHUA

P 4 Green

LUTAAYA ALBERTA

P 4 Purple

NAKATO ROCIE ANGEL

P 5 Yellow

WASSWA RAY HUMPHREY

P 5 Red

JANELLE KATENDE

P 6 Purple

BAGEYA GEORGE

P 6 Blue

MARTIN MORGAN NTAGANDA

P 7  Red

NAMPEERA ANISHA

P 7 Purple

SPORTS WOMEN OF THE YEAR

OPOLOT JOAN

P.4 Green

NANGENDO ESTHER

P.7 Green

SPORTS MEN

AYEBARE AARON

P.3 Yellow

SUNDAY DHIEU

P.5 Green

BEST  FINE ARTIST OF THE YEAR

RAJAB MAJUR

P.6 Green

ANISHA MATOVU

P.6  Green

OUTSTANDING PRESENTER IN ASSEMBLY

NKWENGE ADELIANE

P.6 Yellow

MOST ACTIVE DANCER

ZHANG NIKE

P 3 Red

MOST ACTIVE IN MUSIC

NYAGAYA DANIEL

P.7 Green

READING MANY LIBRARY BOOKS

BAHIRE BRIANA

P 3 Yellow

KATO ARNOLD

P 4 Purple

LWANGA MOSES

P 5 Blue

TEKO TAMARA TYRA

P 6 Yellow

NAKIBUUKA GABRIELLA

P 7 Green

THE BOARDING PUPILS OF THE YEAR

HANASAYE HANNAH

P 6 Yellow

SUNDAY DHIEU

P.5 Green

THE BEST STUDENT IN NATIONAL MATH CONTEST

ASHABA MARK

P.7 GREEN

MOST PERSEVERING PUPIL

MWEBAZE JOY GIFT

P.7 GREEN

FOR ACADEMIC IMPROVEMENT

 

 

 

 

 

 

 

 

 

 

 

 

 

MIREMBE HABIIBAH

P 3 Yellow

JERROME SSEKEEZI

P 3 Red

JEREMIAH KATIMBO MUGWANYA

P 3Purple

NASSOLO KHLOE KAGEZI

P 3 Green

AHEEBWE BERTILLA

P 3 Blue

MUHAIRWE JOSIAH MANZI

P 4 Purple

MULONDO MATTHEW

P 4 Green

LONGA MICHEAL DUKU

P4 Blue

AWITANI AGNES

P 4 Yellow

DHIKUSOOKA ANEL

P 4 Red

GUMONYE IMRAN

P 5 Purple

JJUNJU JUSTIN

P 5 Red

NIGENA TACY

P 5 Green

ANKUNDA BLANCHE

P 5 Yellow

TITUS TOWET

P 5 Blue

AMONG VENITAH

P 6 Blue

MUWEREZA HAPPY

P 6 Red

SSENYANGE ASHRAF

P 6 Purple

MULUNGI GABRIELLA MIREMBE

P 6 Green

NISHA EVYNE

P 6 Yellow

MANYANGWA DRUSCILLA

P 7 Green

KASUJJA AZIZ KALUNGI

P 7 Red

MBASINGA DRUSCILLA

P 7 Blue

KAWALYA RAYMOND

P 7 Purple

LEONZA SHONA TAJJUUBA

P 7 Yellow

THE  BEST ACADEMIC PERFORMER

 

 

 

 

 

 

 

 

 

 

 

 

 

 

 

 

 

THE  BEST ACADEMIC PERFORMER

 

KWEZI HANNAH NKURUNZIZA

P 3 Yellow

ZHANG NIKE

P 3 Red

MUKOOLI JESSE

P 3 Purple

KIRABO HANNAH DEBORAH

P 3 Blue

MATOVU GARVIN RONALD

P 3 Green

NKINZI ULRIKA NISCH

P 4 Yellow

NAKALEMA ANNABEL

P 4 Red

BUWURE WHITNEY

P 4 Blue

AVIV SHALOM TIKVAH

P 4 Green

SENYANGE KENNETH LOUIS

P 4 Purple

ATURINDA PATRICIA

P 5 Purple

MAGEZI RYAN

P 5 Red

MWANJE JOSHUA SAMUEL

P 5 Green

NAMBI DIAMOND

P 5 Yellow

NSANZE  ELVIN

P 5 Blue

KASANA MARK D

P 6 Purple

MBUGA DAVIDS

P 6 Red

ZZIWA EDWIN CHRISTIAN

P 6 Green

KINTU CLIVE WANGI

P 6 Yellow

KASULE IMRAN

P 6 Blue

SAMALIE MUSISI NABUUMA

P 7 Green

HANANI NASSOZI SSEBUNZA

P 7 Red

PATEL CHAITANYA DAKSHESH

P7 Yellow

MUKASA JEDIDAH TENDO

P 7 Purple

LINDEN PRINCE OGIK

P 7 Blue

THE BOARDING PUPIL OF THE YEAR

KWEZI HANNAH NKURUNZIZA

P 3 Yellow

ZHANG NIKE

P 3 Red

THE MOST DISCIPLINED PUPIL OF THE YEAR

MUKOOLI JESSE

P 3 Purple

KIRABO HANNAH DEBORAH

P 3 Blue

MATOVU GARVIN RONALD

P 3 Green

NKINZI ULRIKA NISCH

P 4 Yellow

NAKALEMA ANNABEL

P 4 Red

MATHEMATICIANS OF THE YEAR

BUWURE WHITNEY

P 4 Blue

AVIV SHALOM TIKVAH

P 4 Green

SENYANGE KENNETH LOUIS

P 4 Purple

ATURINDA PATRICIA

P 5 Purple

MAGEZI RYAN

P 5 Red

SPELLING CHAMPION

JAMWA CRAIG  P.5 BLUE

EXEMPLARY LEADER

MUGAGGA ABRAHAM CHRISTIAN           

ICT  PUPIL OF  THE YEAR

JJUUKO DAN PICASO

ACADEMICIAN OF THE YEAR P.3-P.4

ZHANG NIKE

GREENHILL ACADEMICIAN OF THE YEAR P.5- P.7

A KINTU CLIVE WANGI

GREENHILL PUPIL OF THE YEAR

DANIEL AUSTEEN NYAGAYA

GREENHILL OBUNTUBULAMU 2019

HANASAYE HANNAH
Keep Extending Your Horizons…