GHA BUWAATE PRIZE AWARD 2018
On the 3rd October and 4th October 2018, our Primary Buwaate Campus, held its lower section (Nursery to Primary two) and upper section (Primary three to Primary seven) prize award ceremonies respectively both under the theme, "Work for God's Rewards'' from Colossians 3:23-24.
The lower section's ceremony which was highlighted by breathtaking presentations from the Nursery- P.2 pupils had its Guest of Honor as Mrs. Mushabe Elizabeth, the Director of Finance-SMS one and one of the co-founders of the MixaKids Newspaper.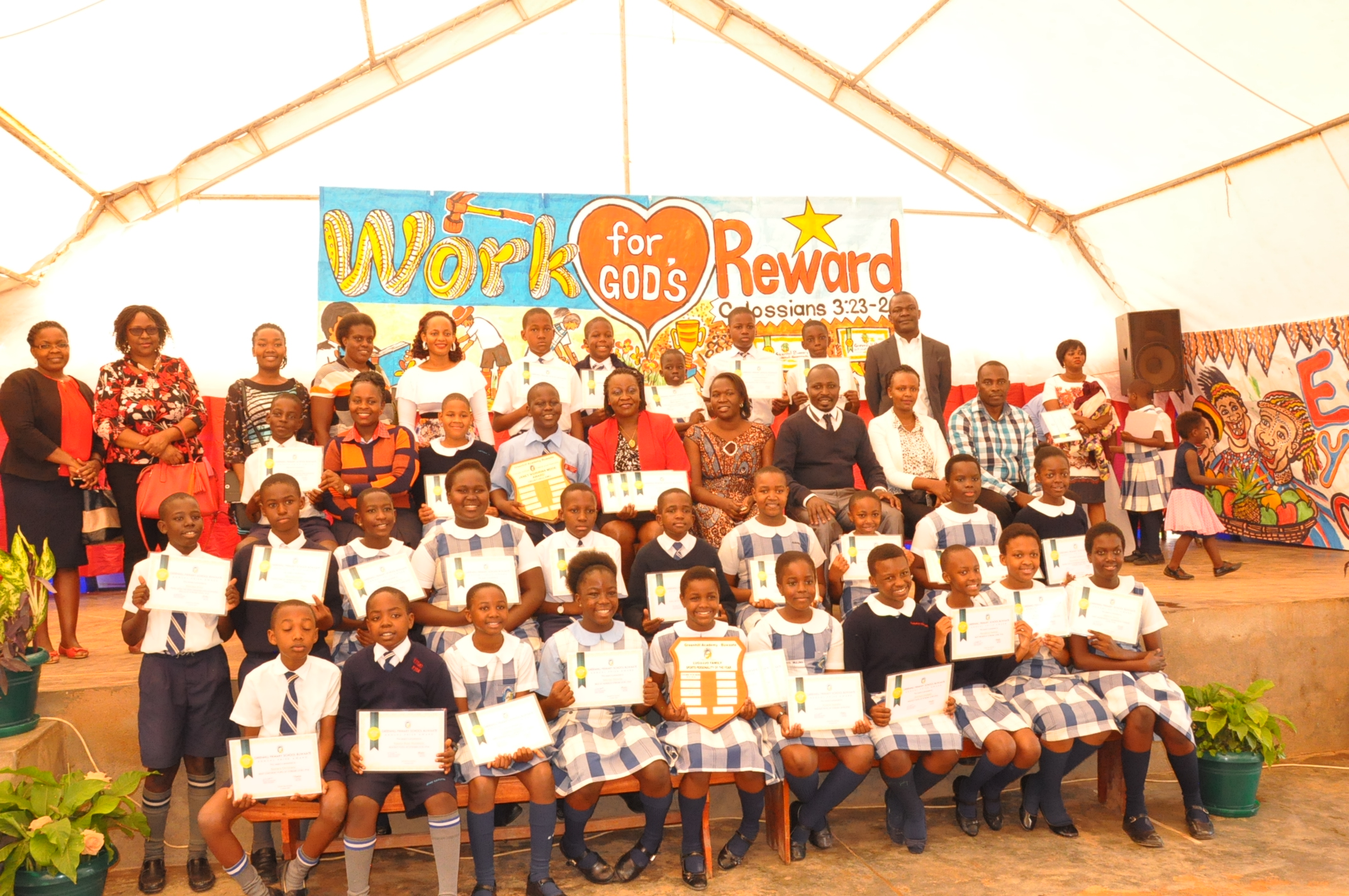 In her inspiring speech, Mrs. Mushabe emphasized how highly impressed she was at how the pupils were confidently expressing themselves in the different presentations. She also encouraged them to read and congratulated all those that had won awards during the event. To those that had not, Mrs. Mushabe urged them not to give up and that they too can become awardees. She also went ahead to award certificates to the P.1 academician of the year, Busingye Kiara Kyoma-P.1 and the P.2 academician of the year who was also the academician of the year in this section; Amutuhaire Lindsay-P.1.
The lower section's prize award was then followed by the upper section's ceremony held on Thursday 4th October 2018 with the Guest of Honor as Mr. Fredrick Kiyingi, the District Education Officer, Wakiso district.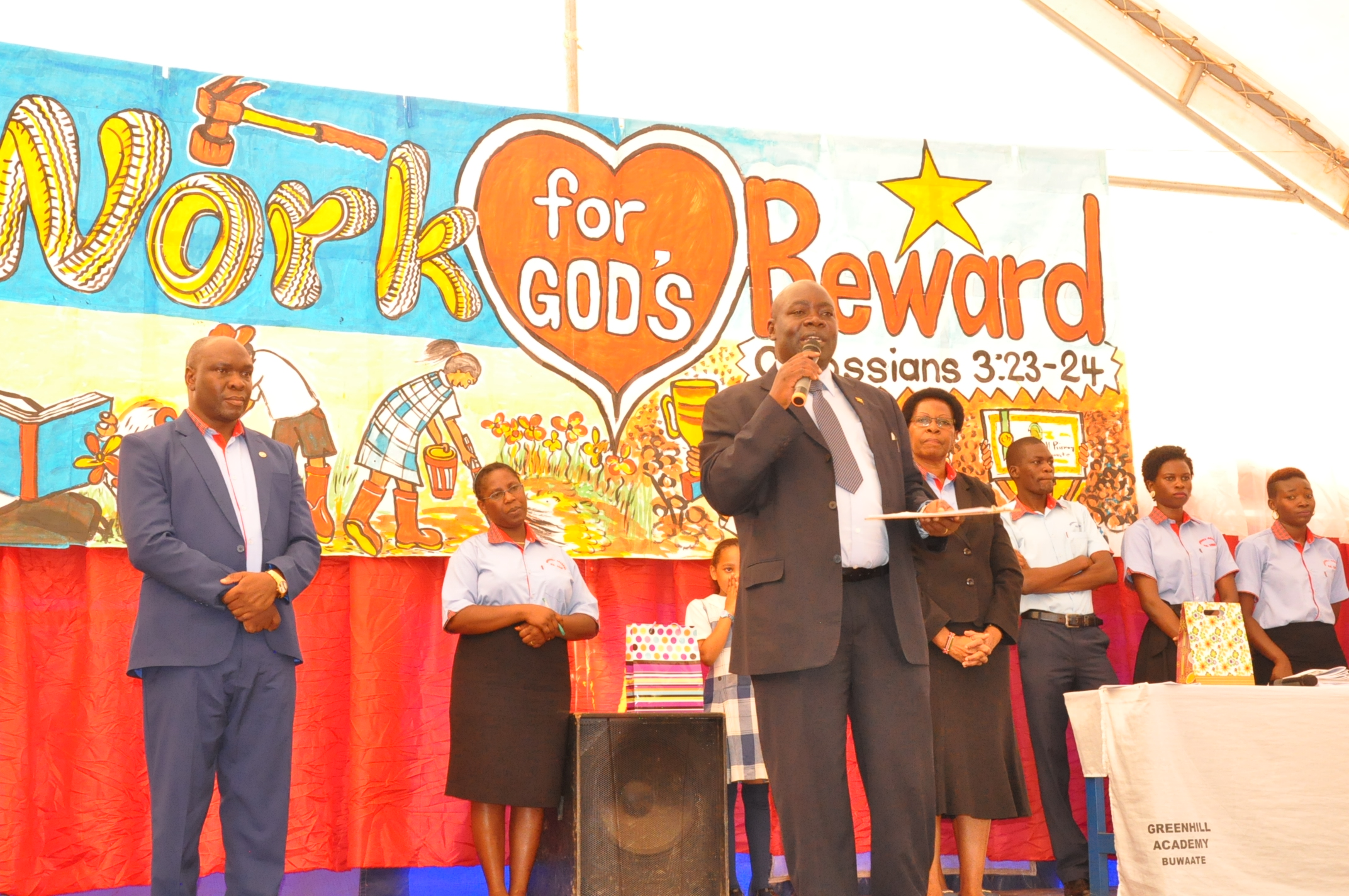 In his speech, Mr. Fredrick commended the school for encouraging pupils to perform highly through rewarding them both academic and non-academic awards. In addition, He was highly impressed by the fact that the Rector, Mrs. Joy Veronica Maraka was present at the function. Mr. Fredrick also performed the ceremony of awarding shields to the Greenhill Pupil of the year, Kanyike Ambrose (P.7 G) and the Ubuntu award winner Magulu Jason (P.6 G).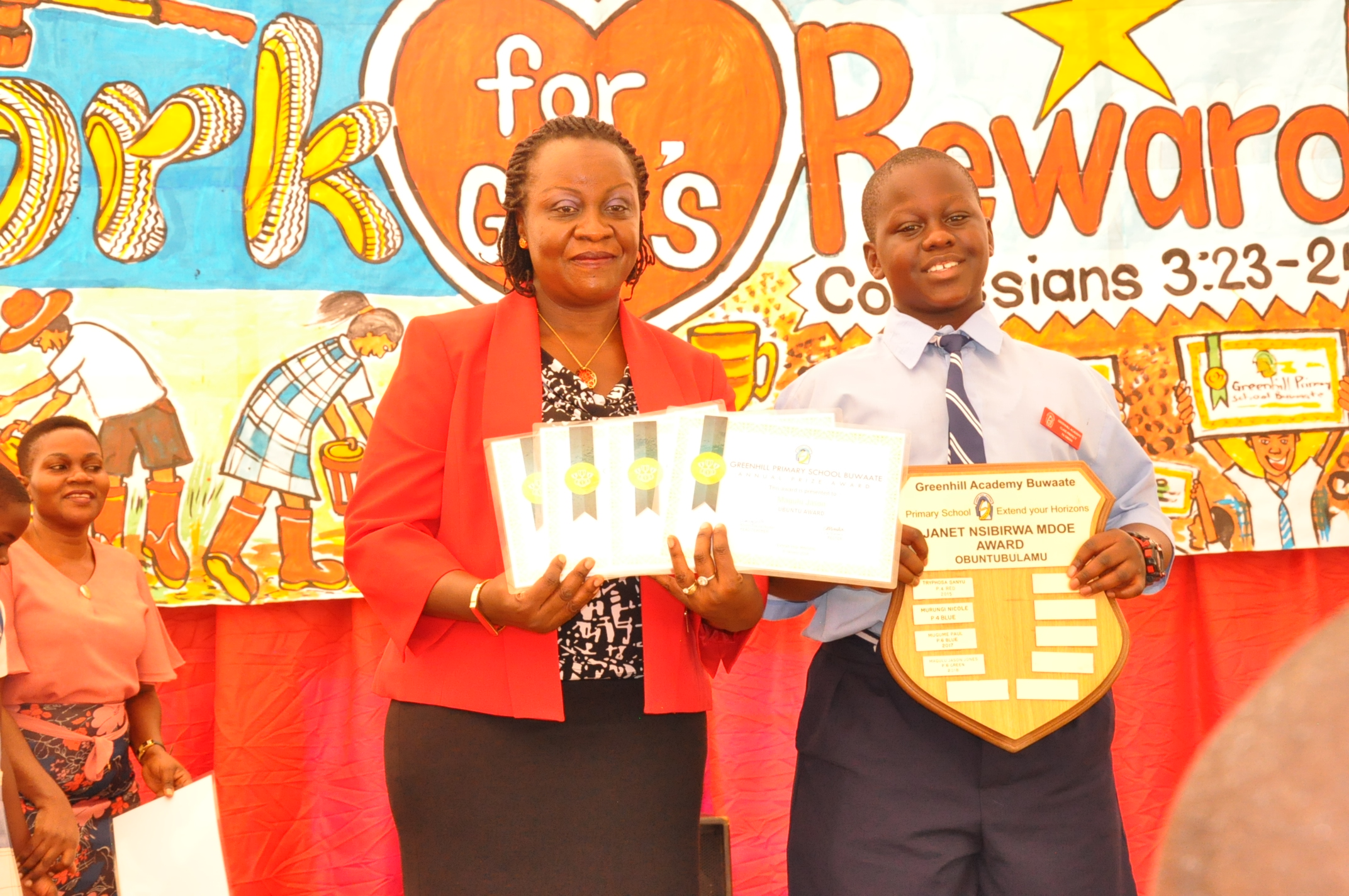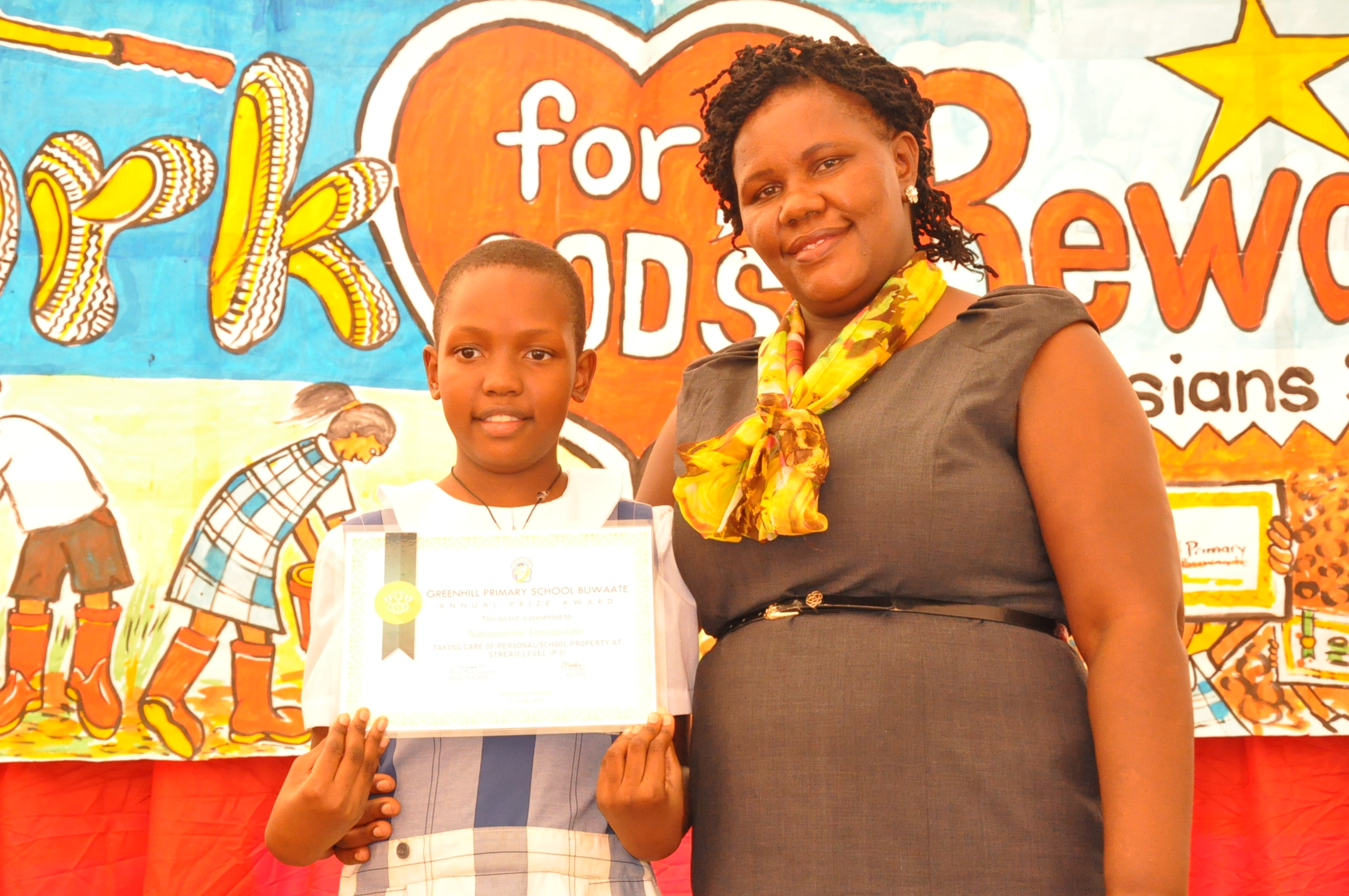 We would like to congratulate all the awardees at this year's prize awards event and; the teachers and parents that tirelessly work hard to ensure these students achieve such great heights of excellence. To those that were not awarded, we encourage you to keep working hard until you too are awarded a shield or certificate for your outstanding performance.
Below is the full list of all the awardees of Greenhill Academy Primary, Buwaate Prize Award 2018:
 

S/N

 

CATEGORY

 

CLASS

 

AWARDEES

 

1a

 

Neatest pupil at stream level (Nursery)

 

Red

Wagogo Kaysan

 

Green

Kizito Khloe

 

Yellow

Nambi Travia Mayra

 

Blue

Leru Adams Raphael

 

Purple

Canaan Magezi

 

b

Neatest pupil at stream level(Kinder)

 

 

Red

Male Manuel

 

Green

Jevon Nana

 

Yellow

Natukunda Ivy

 

Blue

Krysta  Nakajiri

 

Purple

Hashakimana Joshua

 

Silver

Samuella Kabiredi

 

c

Neatest pupil at stream level(Pre Primary)

Red

Kyamanywa Affrah Esther

 

Green

Emilia Sera Malin

 

Yellow

Nalubega Hailey

 

Blue

Bianca Kiwanuka

 

Purple

Karanzi Humphrey

 

d

Neatest pupil at stream level(P.1)

Green

Mugalu Abigail

 

Purple

Nakanja Kevinah

 

Blue

Mutumba Michelle

 

Orange

Kayesu Heidi

 

Yellow

Bajja  Joshua  Ddumba

 

Red

Kobusingye Abigail

 

e

Neatest pupil at stream level(P.2)

Blue

Lutwaama  Tendo Lenah

 

Purple

Ahabwe  Michelle

 

Red

Namakula  Kayla

 

Orange

Owomugisha Enosh

 

Green

Mbabazi  Naomi Hashakimana

 

Yellow

Nakaddu Aisha Alma

 

2a

Pupils with the best handwriting at stream level(Kinder)

Red

Kasujja Eden

 

Green

Kajoba Hannah

 

Yellow

Tamale Jesse

 

Blue

Xavier Kansiime

 

Purple

Anyanzo Michelle

 

Silver

Alysha Katumwa

 

b

Pupils with the best handwriting at stream level(Pre-Primary)

Red

Sima Esther Mugwanya

 

Green

Karuhanga Heidi

 

Yellow

Nagginda Shivon

 

Blue

Sasha Nabunya

 

Purple

Abindabyamu Esther

 

c

Pupils with the best handwriting at stream level(P.1)

Green

Adongpiny   Vanessa

 

Purple

Odwong  Etanah

 

Blue

Keza  Roshan

 

Orange

Malaba  Jairden

 

Yellow

Magomu  Joash Kenneth

 

Red

Nantege Margaret Male

 

d

 

Pupils with the best handwriting at stream level(P.2)

Blue

Asiimibwe   Elizabeth

 

Purple

Zola  Flora  Akena

 

Red

Mulinde Josiah

 

Orange

Monge  Godwins   Peter

 

Green

Thahira  Haisa

 

Yellow

Antonia  Sanyu

 

3a

 

Best reader at stream level (Nursery)

Red

Sanyu Kyazze

 

Green

Nyonzi Shanice

 

Yellow

Mwesigwa Alden Aijuka

 

Blue

Muhumuza Damien

 

Purple

Nakibombo Ann Marie

 

b

Best reader at stream level (Kinder)

Red

Aigi Kimbery

 

Green

Bakka Joseph

 

Yellow

Mari Shanice

 

Blue

Abimpeire Jefferson

 

Purple

Agaba Charlene

 

Silver

Ayebare Marlene

 

c

Best reader at stream level (Pre Primary)

Red

Mugulusi Ivy

 

Green

 Kiberu Deron Harrison

 

Yellow

Muhoozi Jethen

 

Blue

Joshua Muwanguzi

 

Purple

Koli Shivone

 

d

Best reader at stream level (P.1)

Green

Nkinzi Adriannah

 

Purple

Ayinza  Owen

 

Blue

Mwebaza   Esther

 

Orange

Senkumba   Elizabeth

 

Yellow

Ssali  Christian

 

Red

Kironde   Aisha

 

e

Best reader at stream level (P.2)

Blue

Kyazzike  Thereza

 

Purple

Adoko  Eliezer

 

Red

Ssentongo   Felicia

 

Orange

Mubiru  Favor

 

Green

Owamaani   Bernah

 

Yellow

Ainomigisha Samanta

 

4a

 

 

Best at aerobics stream level (P.1)

Green

Tusiime Jeremiah

 

Purple

Khisa Goodman

 

Blue

Barasa Caleb

 

Orange

Namatovu Kimberly

 

Yellow

Anissa Cedra Kirunga

 

Red

Ann Alinga Sasha

 

b

 

 

Best at aerobics stream level (P.2)

Blue

Nerima Valerie

 

Purple

Ainobusingye Lauryn

 

Red

Kugonza Joshua

 

Orange

Akwii Michelle

 

Green

Nabikindu Adriana

 

Yellow

Kobusingye Ivy

 

5a

Best at sports at stream level (Kinder)

Red

Kawuma Raees

 

Green

Ariho Livni

 

Yellow

Agaba Joella

 

Blue

Sekirayi Josiah

 

Purple

Aturinda Jordan

 

Silver

Kisakye Favour

 

b

Best at sports at stream level (Pre Primary)

Red

Mulungi Ethan Mutebi

 

Green

Ndugwa Isaac

 

Yellow

Otim Carstin

 

Blue

Kayemba Alpha

 

Purple

Ahumuza Ryan

 

c

Best pupil in sports stream level(P.1)

 

Green

Namugalu  Martina

 

Purple

Mitch Benjamin

 

Blue

Nangwe   Munil

 

Orange

Namuganza   Kauthara

 

Yellow

Magomu  Joash  Kenneth

 

Red

Acon Timothy Jayden

 

d

Best pupil in sports stream level(P.2)

 

Blue

Opio   Okello  Nathan

 

Purple

Akayo  Melissa

 

Red

Ocen Jonathan

 

Orange

Nganda  Francesca  Yuan

 

Green

Amaruma  Calvin

 

Yellow

Sekasi  Caleb

 

6a

Actor of the year at class level

Kinder

Pre Primary

Ojoro Eli

 
 

Nyamwala Alistiar Joe

 

b

Actor of the year at class level(P.1)

Blue

 

Ahabwe  Eric

 

c

Actor of the year at class level(P.2)

Red

Agaba Israel

 

7a

Actress of the year at class level

Kinder

Nakidde Primacy

 

b

Actress of the year at class level

Pre

Melisa  Rinah

 

C

Actress of the year at class level (P.1)

Green

Namayanja Kevina

 

d

Actress of the year (P.2) Class level

Purple

Okot Bartha Ataro

 

8a

Outstanding dancer at class level

(Kinder- Pre)

Kinder

Nakhayenze Michelle

 

Pre Primary

Ashaba Lisha

 

b

Outstanding dancer  at class level (P.1)

Orange

Namuli Daniellah

 

c

Outstanding dancer  at class level (P.2)

Blue

Namawejje Elizabeth

 

d

Most helpful pupil at stream level (Nursery)

Red

Muhoozi Josiah

 

Green

Muhumuza Abby Mya

 

Yellow

Ankunda Keisha Resty

 

Blue

Amanyire Peyton Virginia

 

Purple

Kasekende Elvis

 

9a

Most helpful pupil at stream level (Kinder)

 

Red

Abaho Jordan

 

Green

Michelle Keinemigisha

 

Yellow

Lumonya Cole

 

Blue

Musabyi Ruth

 

Purple

Khirabo Hannah Lynn

 

Silver

Kirabo Joselyn

 

 

b

Most helpful pupil at stream level (Pre Primary)

Red

Irankunada Shanise

 

Green

Kasakamu Ethel Oseku

 

Yellow

Nagginda Shivon

 

Blue

Alpha Peter Kayemba

 

Purple

Zuri Jelean

 

c

Most helpful pupil at stream level (P.1)

Green

Aheza Von-Diva

 

Purple

Ahabwe Eamon

 

Blue

Nakate Larissa

 

Orange

Nahereza Byamah

 

Yellow

Nkwanzi Daisy

 

Red

Atuhaire Anita

 

d

Most helpful pupil at stream level (P.2)

Blue

Nahire Hilda Sasha

 

Purple

Mirembe Hannah

 

Red

Nsubuga Gideon

 

Orange

Asekenya Julia Suswan

 

Green

Nkwanzi Arianna

 

Yellow

Kayondo Peter Adriel

 

 

10

Environmentally responsible at class level

(Kinder- P.2)

Kinder

Kemigisha Michelle

 

Pre Primary

Barungi Zuri

 

P.1(R)

Nuwagaba Darline

 

 

P.2(P)

 

Asingura Shaun

 

11a

Most confident pupil at stream level (Nursery)

Red

Meghan Mic

 

Green

Kangambe Maya

 

Yellow

Maleg Jethro

 

Blue

Nansubuga Abigail

 

Purple

Marcus George

 

b

Most confident pupil at stream level (Kinder)

Red

Grace Jemera

 

Green

Ogwal Ethan

 

Yellow

Ayana Rukia

 

Blue

Briana Katutsi

 

Purple

Etyang Daniel

 

Silver

Dylan Kananura

 

c

Most confident pupil at stream level (Pre Primary)

Red

Lwanga Hayden Louis

 

Green

Muhairwe  Keije Emmanuel

 

Yellow

Ainembabazi Hannah

 

Blue

Kayitesi Angel

 

Purple

Asiimwe Brianna

 

d

Most confident pupil at stream level (P.1)

Green

Aheza

Von-Diva

 

Purple

Bamwesigwe Adonai

 

Blue

Nsubuga Jeremiah

 

Orange

Neona Kawaddwa

 

Yellow

Kajumba Margaret Skyler

 

Red

Kironde Aisha

 

e

Most confident pupil at stream level (P.2)

Blue

Tendo Carlton

 

Purple

Kalule Gideon

 

Red

Ssemakula David

 

Orange

Oseku Evans

 

Green

Namuyanja Tarana Mukasa

 

Yellow

Were Francis

 

12

 

Best class captain at class level(Kind-P.2

Kinder

Darlene Destiny

 

Pre Primary

Muhoozi Jaythel

 

P.1(Y)

Kayesu Michelle

 

P.2(P)

Kwagala Shanat

 

13a

Taking care of personal and school property at stream level (Kinder)

Red

Akurut Natalia

 

Green

Keinemigisha Michelle

 

Yellow

Nandera Allyson

 

Blue

Talia Kirabo

 

Purple

Seruwagi David

 

Silver

Daniel Banura

 

b

Taking care of personal school property at stream level (Pre Primary)

Red

Imedet Molly

 

Green

Nambuya Elisheva Letaru

 

Yellow

Kanakulya Christian

 

Blue

Katongole Nathan

 

Purple

Kojo Darian

 

c

Taking care of personal and school property at stream level (P.1)

Green

Kalinaki Timothy

 

Purple

Murungi Keza

 

Blue

Babirye Hannah

 

Orange

Nahereza Byamah

 

Yellow

Rwabwogo Lexy

 

Red

Muwanguzi Elijah Keilah

 

d

Taking care of personal and school property at stream level (P.2)

Blue

Zachary Dean Myeera

 

Purple

Rukundo Kayla Abigail

 

Red

Nalunkuma Michelle

 

Orange

Kiwumulo Josephine Paige

 

Green

Namuyanja Tarana  Mukasa

 

Yellow

Akankwatsa Lynette

 

14a

Pupils with the best drawing and colouring skills at stream level (Kinder)

Red

Angualia Sasha

 

Green

Kenganzi Kristian

 

Yellow

Kisakye Eugene

 

Blue

Lyezibwe Satyana

 

Purple

Were Gizella Suubi

 

b

Pupils with the best drawing and colouring skills at stream level(Pre Primary)

Red

Katiso Dave Yaniv

 

Green

Adil Akiza

 

Yellow

Adome Nethan

 

Blue

Nabunya Sasha

 

Purple

Zuri Jelean

 

c

Pupils with the best drawing and colouring skills at stream level(P.1)

Green

Mugalu Abigail

 

Purple

Nabakka Ivy

 

Blue

Anzoa Abigail

 

Orange

Muzoora Absolom                      

 

Yellow

Musiimenta  Daniel

 

Red

Nanyonga Miriam

 

d

Pupils with the best drawing and colouring skills at stream level(P.2)

Blue

Nerima Valerie

 

Purple

Kisakye Praise

 

Red

Kananura Kevin

 

Orange

Mugisha Titan

 

Green

Bukenya Shawn Micheal

 

Yellow

Oryema Abdul Kharim

 

15a

Most academically improved at stream level (Pre Primary)

Red

Malele Raphael

 

Green

 Jenkins Jason Engena

 

Yellow

Kabahuma Jeanne

 

Blue

Kimera  Asher

 

Purple

Ayebazibwe Jacob

 

b

Most academically improved at stream level (P.1)

Green

Matovu Isaac

 

Purple

Arinanye Crystal

 

Blue

Tayebwa Samuel

 

Orange

Rina Ker Otim

 

Yellow

Nakalinda Sheebah Elsa

 

Red

Akum Kourtney

 

c

 

Most academically improved at stream level (P.2)

 

 

 

Blue

Mwene Hashim

 

Purple

Wanyenze Noella

 

Red

Kirabo Samantha

 

Orange

Ssentongo Daniel

 

Green

Nayiga Hannah

 

Yellow

Serunjogi Arthur

 

16a

Outstanding performer in Mathematics

P.1

Busingye Kyoma Kiara

 

 

P.2

Amutuhaire  Lindsay

 

b

Outstanding performer in internal Mathematics contest

P.1

Nomujuni Phillipa

 

P.2

Bakevuga Kaiden Asiimwe

 

c

Outstanding  pupil in English language class level

P.1

 

Kalinaki Timothy

 

P.2

Pinto Marie Muhwezi

 

 

d

Best pupil at Literacy one  at class level

P.1

Kayesu Michelle

 

 

P.2

Ajulu Rose

 

 

e

Best pupil at Literacy two class level

P.1

Busingye  Kyoma  Kiara

 

 

P.2

Odoch Aaron

 

 

17

 

Speller of the year (Kinder- P.2)

Kinder

Zoya Karabo

 

Pre

Ssanyu Marion Biraro

 

P.1

Busingye  Kyoma  Kiara

 

P.2

Amutuhaire Lindsay:

 

18

Academician of the year at class level (P.1 and P.2)

P.1

Busingye Kyoma Kiara

 

P.2

Amutuhaire Lindsay

 

 

Overall academician of the year

 (P1 –P2)

P1 –P2

Amutuhaire Lindsay