Prize Awards Primary Kibuli
2018 KIBULI PRIMARY PRIZE AWARD
On the 2nd October 2018 and 5th October 2018, our Primary Kibuli Campus recognized their most outstanding pupils in the lower section  (Nursery to Primary two) and the upper section (Primary three to Primary seven) respectively.
The prestigious events that also highlighted the pupils' dance skills through the creative dances presented saw outstanding pupils in the categories of Academician and Mathematician of the year, Swimmer of the year, Students with the most improved academic performance, confident speaking to mention but a few walking away with certificates and some, winning themselves Aristoc book coupons worth UGX. 100,000 each.
The Lower section's event was graced with the presence of, Mrs. Sarah Namuwenge Mugumya the Corporate Communications Manager, National Water and Sewarage Corporation as the Guest of Honor. Mrs. Sarah Namuwenge presented certificates and shields to the P.1 and P.2 Academicians of the year; Lukwago Simon P.1 Red Blue and Anel Lalobo Lakica, P.2 Yellow, who also doubled as the overall academician of year in the section.
In her speech, the Guest of Honor told a story of a race between a cheeter and a tortoise. In her story, the tortoise won the race because it did not get distracted and complacent like the cheeter who kept stopping on the way. Based on this, she encouraged those that had been awarded to maintain the high standards they have set and those that had not been awarded to never give up but keep working hard just like the tortoise.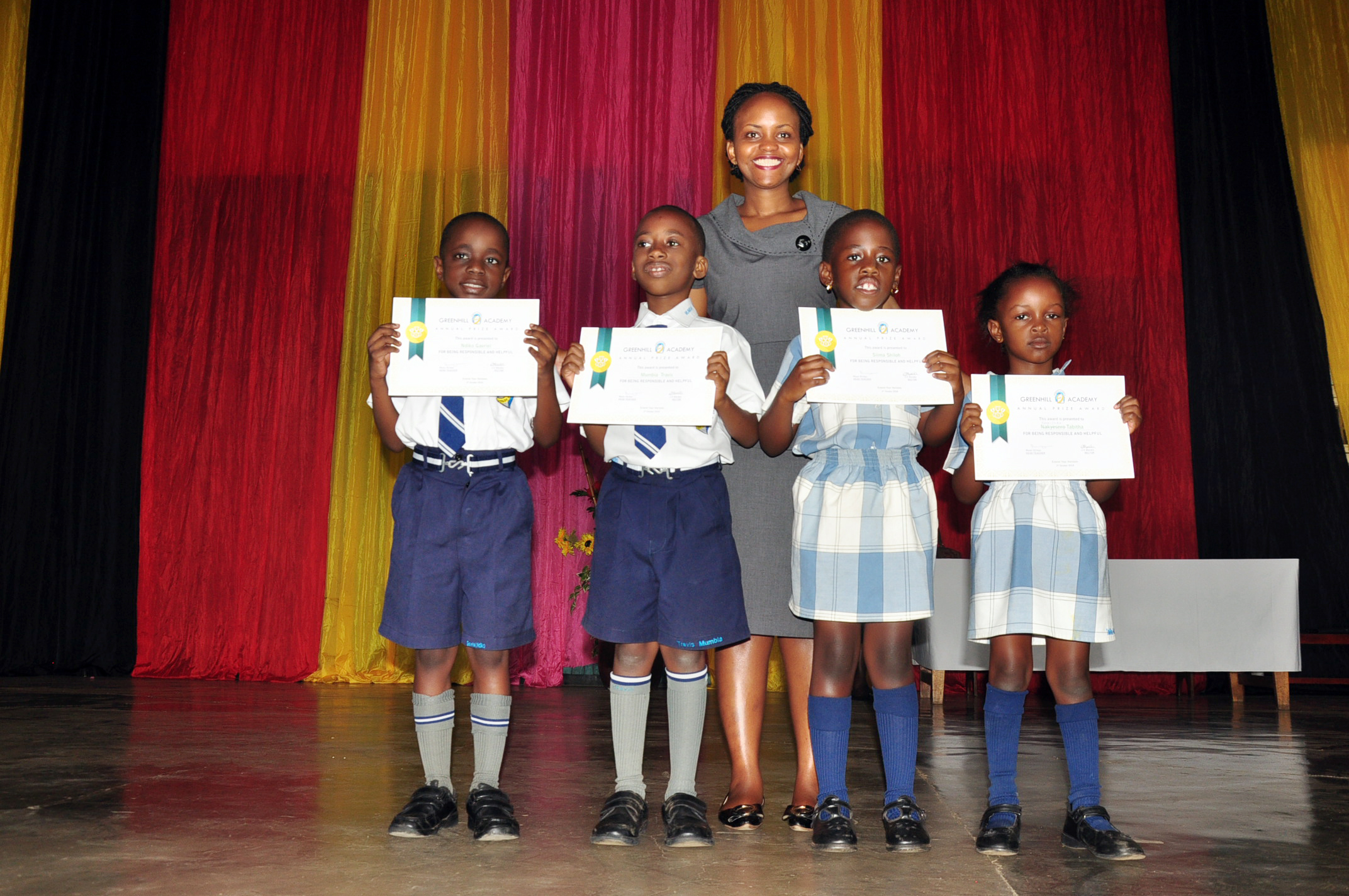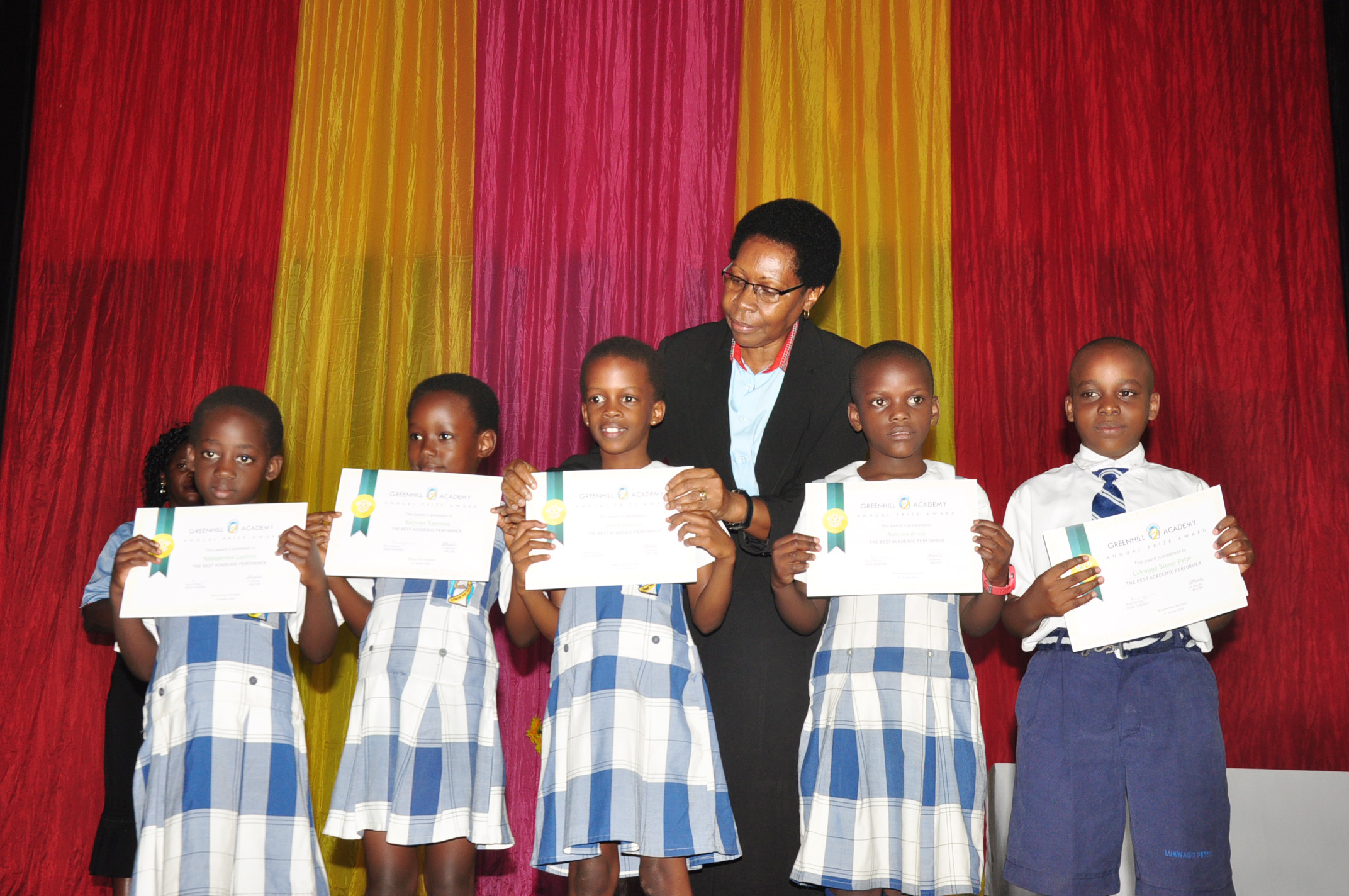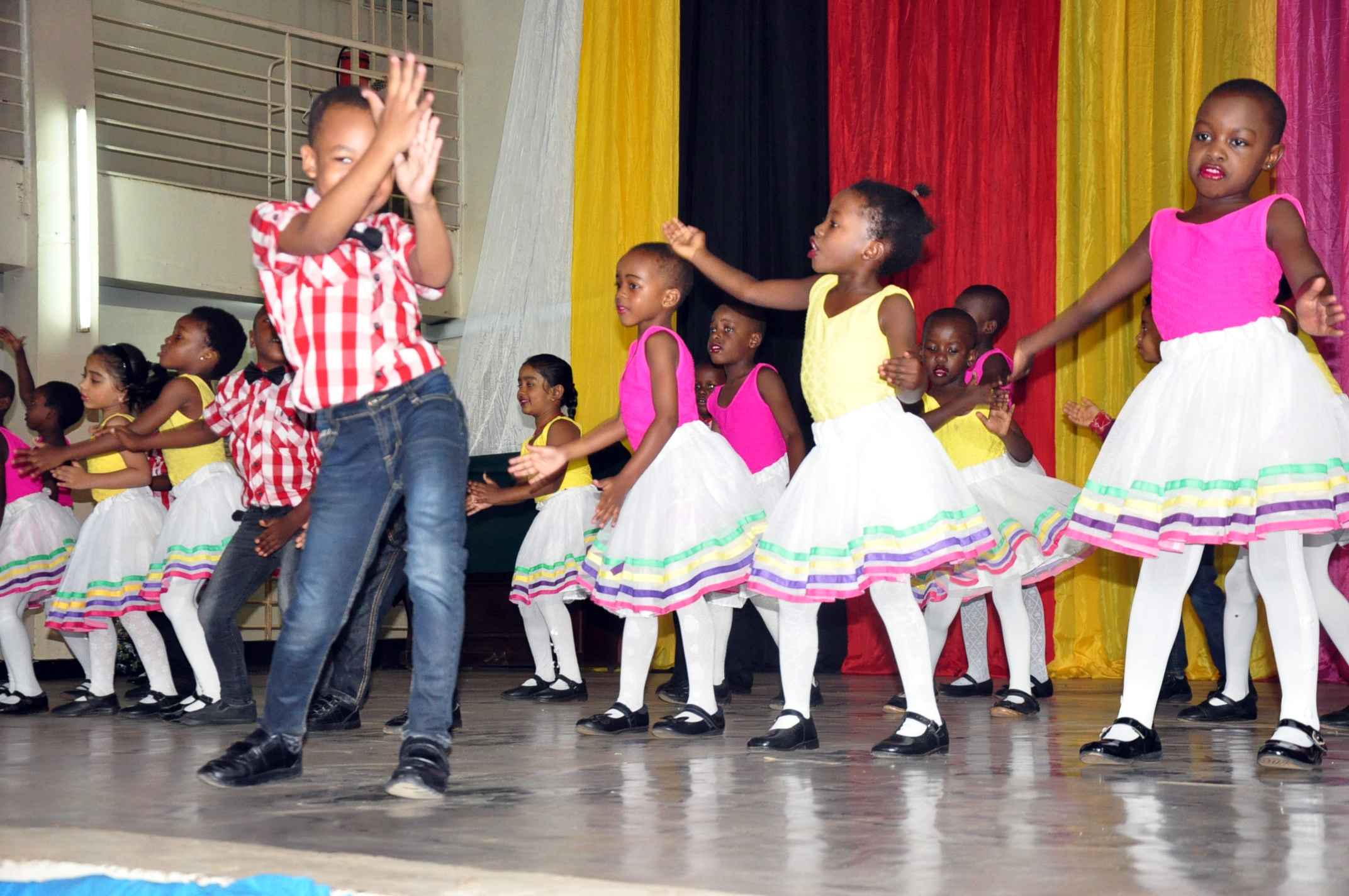 The Upper Section's event then followed having its Guest of Honor as Mrs. Beatrice Onyang, who has been a parent of the school for over 10 years. She went on to award certificates and shields to the Student of the year, Sentongo  Rebecca  (P.7 Green) and the Ubuntu Award winner Nakiyingi Catherine Sserunkuma (P.7 Green). In her very enlightening speech, Mrs. Beatrice Onyang urged the audience to always aim for excellence and to work hard in all that they do because hard work always pays.
We would like to congratulate all the awardees of this years' prize awards as well as, the teachers and parents that have done a great job as far as grooming these pupils is concerned. To those that were not awarded, we encourage you to keep striving for the best; one day you too will be an awardee.
Below is the full list of all the awardees of Greenhill Academy Primary, Kibuli Prize Award 2018.
 PRIZE AWARD LIST FOR NURSERY –PRIMARY TWO 2ND OCTOBER, 2017
NO

CATEGORY

NAME OF STUDENT

Class/Stream

1

BEST SWIMMERS  OF THE YEAR

 

 

 

 

Kalende Sean

Nursery Silver

Mbabazi Apio Flower

Nursery Silver

Tendai Mohammed

Pre Blue

Nansamba Aisha

Pre Red

Tusiime Marvin

P.1 Green

Nakato Kyla

P.1 Red

Kayla Sarah Aliza

P.2 Blue

Karuhanga Elisha

P.2 Purple

2

SPORTS WOMEN OF THE YEAR

 

 

 

Nakandi  Christina

Nursery Green

Chinelo Manuela

Pre Green

Namuyanja Kitibwa Rania

P.1 Blue

Kasasa Jasmine

P.2 Yellow

3

SPORTS MEN OF  THE YEAR

Luswata Jayden

Nursery Yellow

Mayinja Matthew Joseph

Pre Purple

Adam Katumba

P.1Red

Ssemugooma Jeremiah Katimbo

P.2 Purple

4.

THE BEST DANCER

Kajumba Matthew

Nursery Red

Murungi Fortunanta

Pre

Nakato Michelle

P.1 Blue

Nanyondo Priscillar

P.2Blue

5

FOR ACTING AND PERFORMING IN PLAYS

Tumwesigye Ethan

Nursery Purple

Kizito Dalton

Pre Green

Mugagga Eileen

P.1 Purple

Matovu Garvin

P.2 Red

6

 THE FINE ARTIST OF THE YEAR

Babirye  Yanella

Nursery Yellow

Travis Biato Dominic

Pre Green

Kakuru Joel

P.1 Red

Kajoba Elijah

 

 

 

P.2 Green

7

TAKING GOOD CARE OF PERSONAL PROPERTY

Auyushi Serak

Nursery Purple

Mary  Claire

Nursery Green

Kiwummolo  Rejoice

NurseryOrang

Mirembe Khloe

Nursery Silver

Musenze  Roy 

Nursery Blue

Nkamwesiga Akaliza Antonia

Nursery Red

Mwiine Favour

Nursery Yellow

8

A ROLE MODEL TO OTHERS

Atweta Linah

NurseryOrange

Arinaitwe Ethan

Pre Purple

Nakimuli Jasmine

P.1 Green

Babirye Fareeha Munubi

P.2 Red

9

FOR BEING RESPONSIBLE AND HELPFUL

Nakijoba Tabitha

Nursery Red

Siima Shiloh

Pre Yellow

Mumbia  Travis

P.1 Red

Ndiko Gavriel

P.2 Blue

10

FOR SPEAKING WITH CONFIDENCE

 

 

 

 

 

 

 

 

Skye Katungi Ampaire

Nursery Red

Abigail Kigozi

Nursery Green

Jowella Kirabo

Nursery Purple

Ndugi Elaine

Nursery Blue

Dean Daniel Manzi

Nursery Yellow

Ankunda  Beth Musiime

Nursery Silver

Liam Jude    Mayanja

Nursery Orange

Ewoma Bella Ejiri

Pre Purple

Ssanyu Muwema

Pre-Green

Cherono Allison

Pre-Yellow

Musaazi Dylan

Pre Red

Nakasujja Latavia

Pre Blue

Semugooma Dylan

P.1 Green

Mwiza Harah

P.1 Red

Kengaju Ethel

P.1 Purple

Kikonyogo Malaika

P.1 yellow

Lutakome Adriana

P.1 Blue

Tamale Leonnard Jerome

P.2 Blue

Nsimbe Farhaan

P.2 Red

Bahire Briana

P.2 Yellow

Kato Jeremiah

P.2 Green

Nakazibwe Tamirah Nakibuuka

P.2 Purple

11

FOR MAKING WONDERFUL PROGRESS THIS YEAR

 

 

 

 

Mamuli Haytham

Nursery Yellow

Mbalire Shadin

Nursery Green

Nakyesero Tabitha

Nursery Blue

Walusimbi Angelo

Nursery Silver

Nakato Yamara

Nursery Purple

Nanfuka Johannah

Nursery Red

Mabirizi Harris

Nursery Orange

Kiggundu  Arianna

Pre Purple

Asiimwe Jayson

Pre Green

Murtaze Bruhanuddin

Pre Yellow

Jingo George

Pre Blue

Ninsiima Mariana

Pre  Red

Namulondo Abigail

P.1 Red

Kasozi Roniyah

P.1Green

Banalya Zoe

P.1 Blue

Ssekajja Alister

P.1 Yellow

Nassonko Theresa

P.1 Purple

Carl Luzinda Martin

P.2 Yellow

Megan Mukasa

P.2 Green

Kiguli Isaac Lumu

P.2 Blue

Matovu Garvin

P.2 Red

Carlton Neville Nyaruhuma

P.2 Purple

12

BEST ADJUSTED PUPIL IN CLASS

Meet Patel

Nursery Red

Ssejjengo Jesse

Nursery  Yellow

Garuhanga  Elvis

Nursery Silver

Nanungi Michal

Nursery Blue

Rose Osako

Nursery  Green

Wangari Deborah Maina

Nursery Orange

Maria Nabaweesi

Nursery Purple

13

FOR BEING THE BEST CLASS CAPTAIN OF THE YEAR

Kukundakwe Patricia

Pre Red

Mirembe Karen Gessa

P.1 Red

Arinaitwe  Morris

P.2 Green

 

 

14

FOR READING MANY LIBRARY BOOKS

Luke James Ssembeguya

P.2 Yellow

15

 BEING A VERY FLUENT READER

Kasasa Speranza

Nursery Green

Yocbel Fitsum

Nursery Yellow

Anwitha Hareesh

Nursery Purple

Nangonzi Leandra

Nursery Blue

Tashoby Ian

Nursery  Silver

Tevin Mumbia

Nursery Red

Kiggundu Matthew

Nursery Orange

Jordan Ishimwe

Pre Green

Rutemba Rwetasya

Pre Yellow

Mugumya  Bracha

Pre Red

Kakooko Titus

Pre Blue

Josiah Osiru

Pre Purple

Tavi Timothy

P.1 Red

Wasswa Kylie

P.1 Purple

Kamengo Joash

P.1 Blue

Bananiga Rania

P.1 Yellow

Kasasa Edrick

P.1 Green

 Anel Lalobo Lakica

P.2 Yellow

Senai Aloniab

P.2 Purple

Nakawooya  Isabelle

P.2 Blue

Namuleme Maria

P.2 Green

Kisinde Melvin

P.2 Red

16

BEING THE BEST ACADEMIC PERFORMER

 

 

 

Lukwago  Simon Peter

P.1 Red

Nassiwa Alicia

P.1 Blue

Nabagereka Laetitia

P.1 Green

Ineza Nesrine

P.1 Yellow

Nazziwa Faheema

P.1 Purple

Mukooli Jesse

P.2 Purple

Mwaka Lois

P.2 Green

Semakula Shadrack

P.2  Blue

Serah Parakkal

P.2 Red

Anel  Lalobo Lakica

P.2 Yellow

17

BEING THE MATHEMATICIAN OF THE YEAR

Nakato Kayla

P.1 Red

Atugonza  Nick Ngobye

P.2 Yellow

18

ACADEMICIAN

Lukwago Simon Peter

P.1 Red

ACADEMICIAN

Anel  Lalobo Lakica

P.2 Yellow

19

OVERALL ACADEMICIAN OF THE YEAR

Anel Lalobo Lakica

P.2 Yellow
PRIZE AWARD LIST P.3 –P.7 FRIDAY 5TH OCTOBER 2017
NO

CATEGORY

NAME OF STUDENT

Class/Stream

 

1

BEST SWIMMERS

PER CLASS

Mandre Joshua

P.3 Red

 

Opolot Joan

P.3 Green

 

Jamwa  Craig

P.4 Blue

 

Nakato Rocie Angel

P.4 Purple

 

Ssagala  Mark

P.5 Yellow

 

Kobel Kyla Uwera

P.5 Yellow

 

Rutayisire Martin

P.6 Blue

 

Adoch Christine

P.6 Red

 

Kivumbi Jude

P.7Purple

 

Nakiyingi Catherine Sserunkuma

P.7 Green

 

2

SPORTS WOMEN OF THE YEAR

Alako Abigail

P.3- P.4

 

Nangendo Esther

P.5-P.7

 

3

SPORTS MEN

Mwesigwa  Isreal

P.3-P.4

 

Sserunjogi Simon

P.5-P.7

 

4

BEST  FINE ARTIST OF THE YEAR

Walamaku Ethan

P.4 Blue

 

Nantezza Adelyte

P.5 Yellow

 

5

OUTSTANDING PRESENTER IN ASSEMBLY

Keizirekweera Myra

P.6 Purple

 

6

MOST ACTIVE DANCER

Kyokutamba  Grace

P.5 Blue

 

7

MOST ACTIVE IN MUSIC

Nyagaya Daniel

P.6 Purple

 

8

READING MANY LIBRARY BOOKS

Taremwa Rapha

P.3  Purple

 

Glen Mukisa

P.4 Blue

 

Nkwenge  Adeliane  Gladys

P.5 Yellow

 

Kiggundu Lenita

P.6 Red

 

Fahima  Sebaggala

P.7 Green

 

9

THE BEST STUDENT IN NATIONAL MATH CONTEST 2017

Nalweyiso Kamya Lucille

P.7 Green

 

10

FOR ACADEMIC IMPROVEMENT

 

 

 

 

 

 

 

 

 

 

 

 

 

Kasirye Daniel

P.3  Purple

 

Suubi Liana

P.3  Green

 

Anyine Jirah

P.3  Blue

 

Ayebare Mary Henreata

P.3 Red

 

Samiel Iyassu

P.3 Yellow

 

Namutebi Kauthar

P.4 Blue

 

Mugumya Benitah

P.4 Purple

 

Kirungi Martha

P.4 Green

 

Awazzi  Juma

P.4 Red

 

Mary Male Leona

P.4 Yellow

 

Bainomugisha Isla

P.5 Yellow

 

Namubiru Lina

P.5  Red

 

Kaggwa Jjunju

P.5 Purple

 

Lubanga  Ryan

P.5 Blue

 

Mirembe Jeanelle

P.5 Green

 

Muyonga Ellamo  Samwiri

P.6 Purple

 

Adior Grace

P.6 Blue

 

Kajuga Nedine

P.6  Red

 

Duha  Hago

P.6 Green

 

Saron Iyassu

P.6 Yellow

 

Nalubwama Benita

P.7 Blue

 

Mugisha  Evelyn

P.7  Red

 

Kataswa Emmanuel

P.7 Yellow

 

Mijumbi Lenin Kabalega

P.7 Purple

 

Carl Bbosa Kiyingi

P.7 Green

 

11

THE  BEST ACADEMIC PERFORMER

 

 

 

 

 

 

 

 

 

 

 

 

 

 

 

 

 

THE  BEST ACADEMIC PERFORMER

 

Ssenyange  Kenneth Louis

P.3 Purple

 

Ocero Mitchelle

P.3 Green

 

Ayesiga  Edan

P.3 Blue

 

Atwine  Jordan

P.3 Red

 

Namwanga Mariana

P.3  Yellow

 

Nsanze  Elvin Nshuti

P.4  Blue

 

Awissi  Vegard Noble

P.4 Purple

 

Mazereba John Patrick

P.4  Green

 

Lutabi Mark

P.4 Red

 

Nikita Zaake Pretty

P.4  Yellow

 

Hanasaye Hannah

P.5  Yellow

 

Nakubulwa  Samantha

P.5 Red

 

Achulu Faith

P.5  Purple

 

Nkamba Abigail

P.5 Blue

 

Lamaro Ethan

P.5 Green

 

Lumala  Sameerah.A

P.6 Purple

 

Kisembo  Skylar

P.6 Blue

 

Manyangwa Druscilla

P.6 Red

 

Nassali Elizabeth

P.6 Green

 

Odanga  Candy

P.6 Yellow

 

Cherop Modesta

P.7  Green

 

Naguyo  Alvin

P.7 Yellow

 

Agaba Tumwine

P.7  Purple

 

Shielder  Elizabeth Iisa

P.7 Red

 

Anyel   Abdalla

P.7 Blue

 

12

THE BOARDING PUPIL OF THE YEAR

Nalweyiso  Kamya Lucile

P.7 Green

 

Chamali Heavens

P.7 Green

 

13

THE MOST DISCIPLINED PUPIL OF THE YEAR

Anika Naomi

P.3 Purple

 

Kanyiginya  Courtney

P.4 Green

 

Bariho  Rosana

P.5 Yellow

 

Nsibirwa Gladys

P.6 Purple

 

Kogere Daniella Atwooki

P.7 Green

 

14

MATHEMATICIANS OF THE YEAR

Ndugwa Emmanuel Jethro

P.3 Purple

 

Nsanze  Nshuti  Elvin

P.4 Blue

 

Nabirye Abigail

P.5 Yellow

 

Luwedde  Catherine Lynette

P.6 Purple

 

Wetaka  Trevor

P.7 Green

 

15

SPELLING CHAMPIONS

Osiru Abigail

Osiru Joshua David

Lael Lakuc Lalobo

Among Racheal

16

EXEMPLARY LEADER

Mbafuga Ethan

17

ICT  PUPIL OF  THE YEAR

Diana  Nannozi Bangi

18

SOCIAL STUDIES PUPIL OF THE YEAR P.4 –P.5

Nsanze  Nshuti  Elvin

19

SOCIAL STUDIES  PUPIL OF THE YEAR P.6- P.7

Lumala   Sameerah .A

20

INTEGRATED SCIENCE PUPIL OF THE YEAR P.6- P.7

Lumala    Sameerah .A

21

GREENHILL MATHEMATICIAN OF THE YEAR P.3- P.4

Nsanze  Nshuti Elvin

22

MATHEMATICIAN OF THE YEAR P.5 -P.7

Nabirye Abigail

23

ACADEMICIAN OF THE YEAR P.3/P.4

Ssenyange  Kenneth Louis

24

GREENHILL ACADEMICIAN OF THE YEAR P.5- P.7

Lumala Sameerah . A

25

GREENHILL PUPIL OF THE YEAR

Sentongo  Rebecca

26

GREENHILL OBUNTUBULAMU 2017

Nakiyingi Catherine Sserunkuma

 
 
 
 
 
 
Keep Extending Your Horizons…