Prize Awards Secondary School
GREENHILL ACADEMY SECONDARY PRIZE AWARD CEREMONY
Every year, Greenhill Academy Secondary students that have excelled in both academic and non- academic aspects are awarded during the, 'Annual Prize Award Ceremony'. The categories awarded include; outstanding students in games such as, swimming, rugby, football to mention but a few; outstanding performing artist; most supportive student and parent, most academically improved student; sports personality of the year; mathematician of the year; academician of the year; Greenhill student of the year; Ubuntu award winner to mention but a few.
This year's prize award held on the 1st October 2018 under the theme, 'In all Toil, there is Profit' derived from Proverbs 14:23 had, Ow'ekitiibwa Robert Wagwa Nsibirwa, the Minister of Finance, Planning, and Economic Development for the Buganda Kingdom and the Chairman Greenhill Academy Holdings Board as the Guest of Honor. Introduced by the Rector, Mrs. Joy Veronica Maraka, the Guest of Honor congratulated all those that had been awarded and urged students to always aim to 'walk the talk' because talk alone cannot deliver results.
During this year's ceremony, the most supportive parents, Mrs. Maryanne Nimusiima and Mrs. Mendy Yu. Inebulwa were recognized and, the students who won the most prestigious awards of the day were; Tendo Mariam Edith (S.5) who scooped the Sports Personality of the Year for steadily managing to balance her academics with sports and leading the school to victory in various swimming competitions; Aluel Angella (S.4) who emerged the Mathematician of the year; Anjila Brenda Tsaknakis (S.6) who won the Student of the year award for depicting the all-round  and highly disciplined student Greenhill seeks to groom; Nalule Angela Miti (S.6) who won the Ubuntu award for her humanity, humility, pro-activeness, helping hand, discipline to mention but a few aspects she possesses and; Filimon Biniam Andom (S.3) who scooped the Academician of the year for consistently performing highly.
The ceremony was crowned in a grand way with Filimon Biniam Andom, the academician of the year receiving a brand new laptop from the Guest of Honor for his hard work. All students could be seen excited about this and wishing they were in Filimon's shoes. To Filimon and all the winners of the ceremony, we congratulate you. To those that did not win this year, we encourage you not to give up; you too can scoop during next year's awards. Below is a full list of the winners of this year's Secondary School prize award ceremony.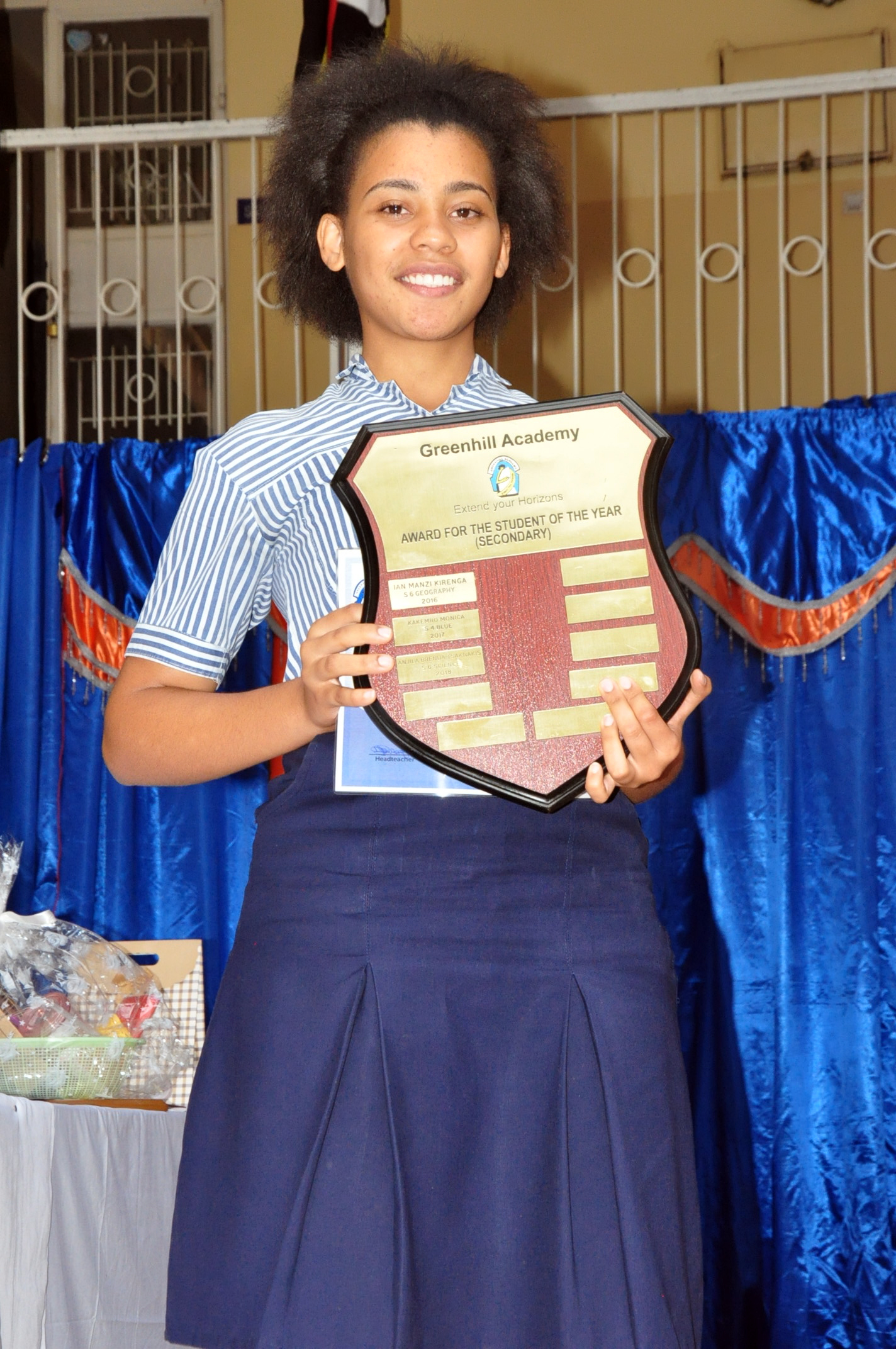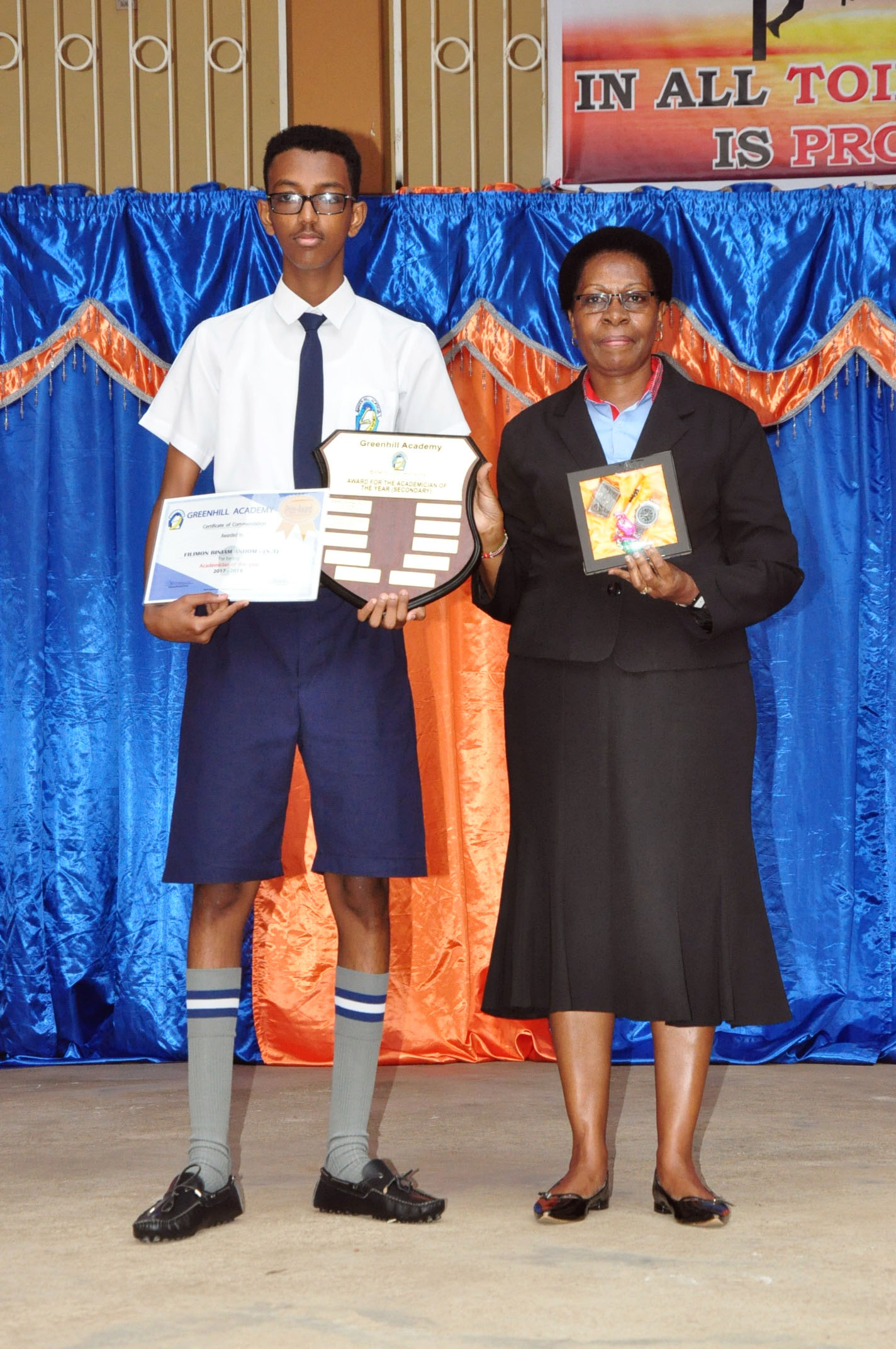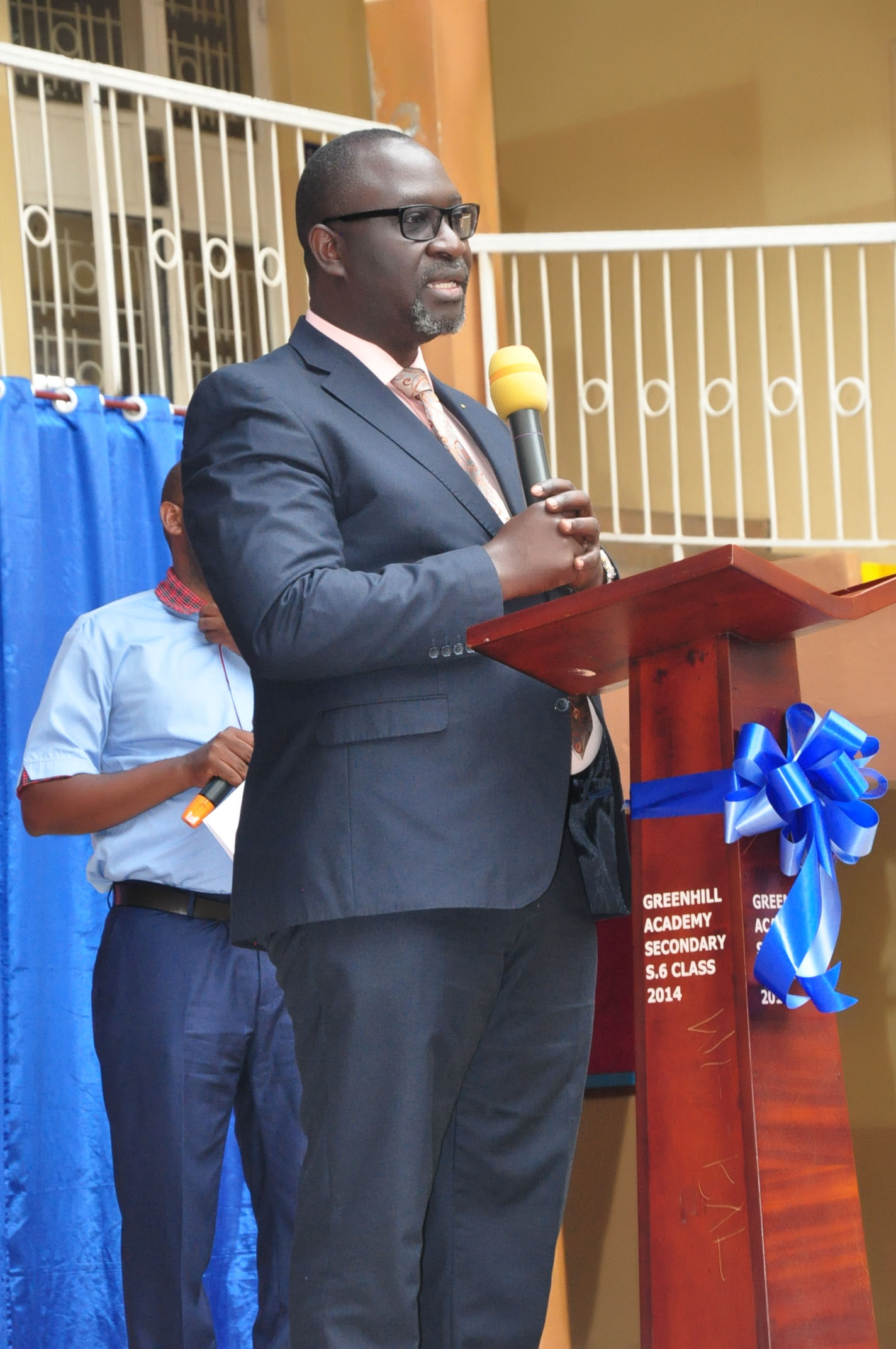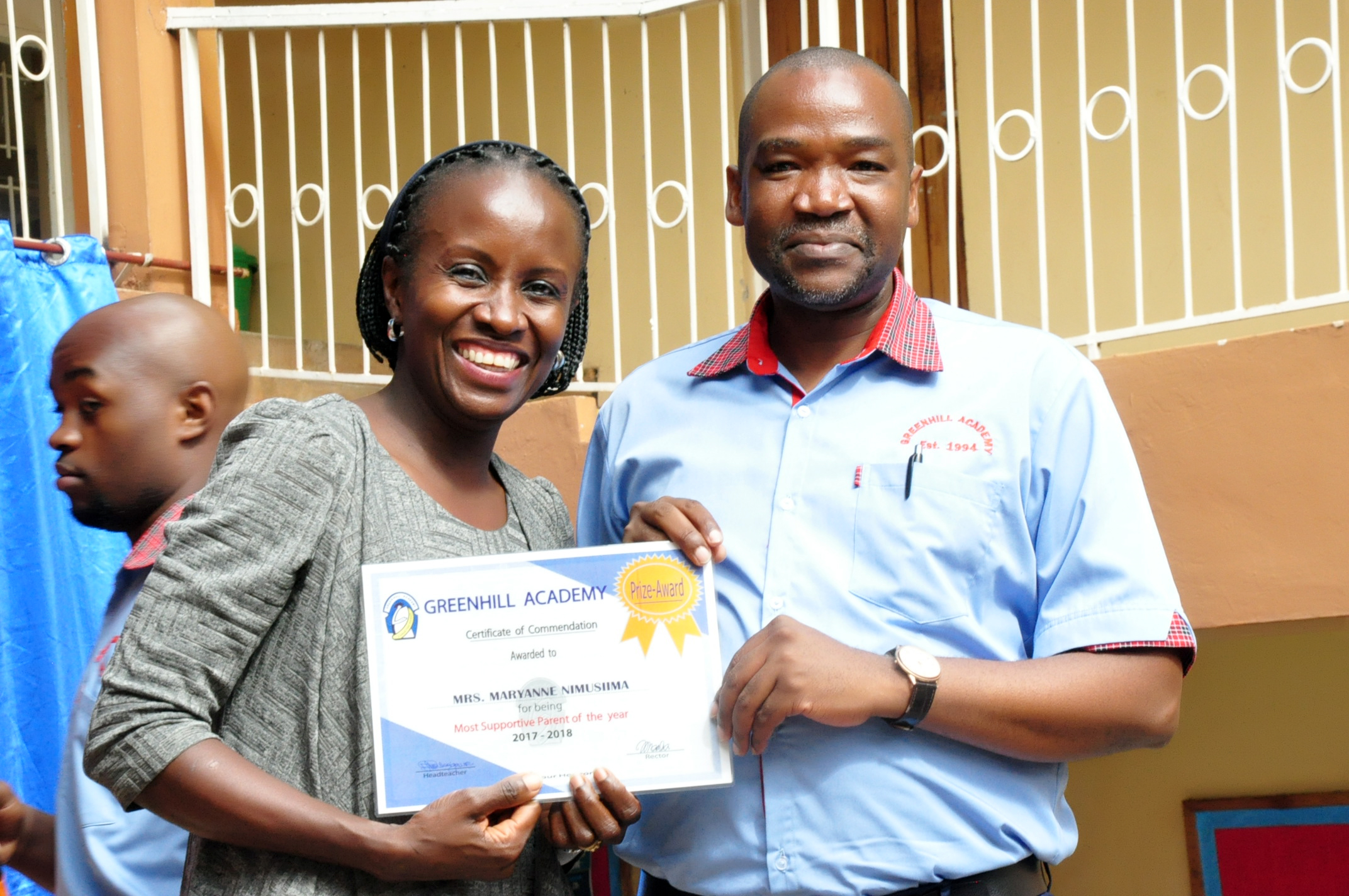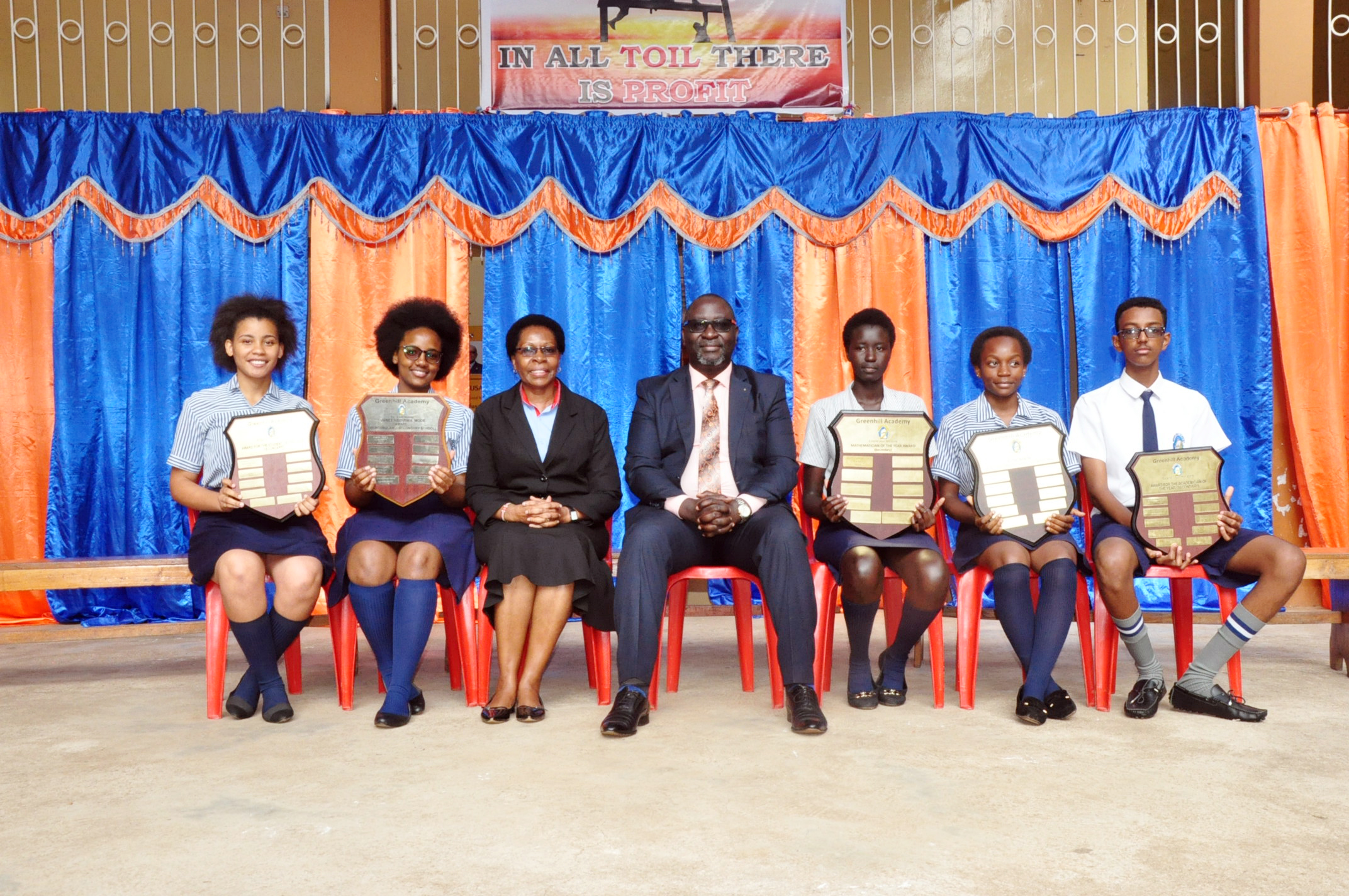 AWARDS

WINNER

Best  Male Swimmer of the year

Best  Female Swimmer of the year

Chris Gregory (S.5)

Tendo Mariam Edith  (S.5)

Basketball  player of the year

Mabil Mawut (S.4)

Rugby  player of the year

Kupajo David (S.6)

Football player of the year

Ngot Paul (S.4)

Cricket  player of the year

Vekariya Kush Mahesh (S.2)

Outstanding Performing Artist

Marvel Nimurungi (S.6)

Outstanding school Envoy/ Marketer

Nakaziba Joy Shalom (S.6)

Neatest 'O' Level Student

Smit Delwadia (S.3)

Neatest 'A' Level Student

Nalule Angela Miti (S.6)

 Most Adjusted Foreign Student.

Mpanda Samuel Chikala (S.3)

Ardent Student For All School Programmes

Mayeku  Richard (S.5)

Best Library User 'O' Level.

Best Library User 'A' Level.

Serena Aransiola Oyindamola (S.4)

Mwazembe Samuel (S.6)

Ardent Reader Of  The Year

Nyawang Nyafier  (S.1)

Outstanding Club Member.

Kenyonyozi Patricia (S.6)

Outstanding Public Speaker/ Debater

Kakembo Monica (S.5)

Outstanding Assembly Presenter.

Fekira Patience (S.3)

Most Persevering Student For The Year

Namiiro Lynn (S.3)

Outstanding Fine Artist Of The Year.

Namara Yvesse (S.6)

Most Socially Responsible student.

Kemigisha Tracy (S.4)

Most Disciplined Student Of The Year.

Brenda Anjila Tsaknakis  (S.6)

Most Supportive Student

Kagisye Laetare (S.6)

Most Supportive Parents

Mrs. Maryanne Nimusiima

Mrs. Mendy Yu. Inebulwa

Student Leader Of The Year

Nakiboneka Dorcus (S.6)

Isimbi Daniella (S.6)

Most Academically Improved Students.

'O' Level

'A' Level

 

Aliyah Benoni (S.1)

Ayush Patel   (S.5)

Academicians For Each Year Group.

Senior One Academician of the year

Senior Two           "

Senior Three         "

Senior Four           "

Senior Five           "

Senior Six             "

 

Mugisha Kellis Mary

Vekariya Avanti Ravji

Filimon Biniam Andom

Aluel Angella

Kyabaggu Mark

Mwazembe Samuel

Sports Personality Of The Year.

Tendo Mariam Edith (S.5)

Mathematician Of The Year.

Aluel Angella (S.4)

Academician Of The Year

Filimon Biniam Andom (S.3)

Student Of The Year.

Anjila Brenda Tsaknakis (S.6)

Ubuntu Award

Nalule Angela Miti (S.6)